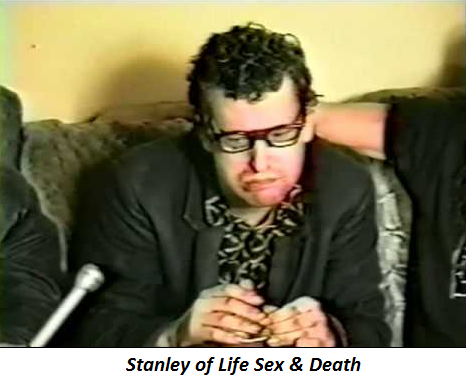 This band is most assuredly one of them. Besides a few b-sides, this album was all they ever released before imploding from the career-wrecking hijinks of their singer, Stanley just Stanley. Stan, you see, had a gimmick, and a mythological back-story, that he ended up living up to just a little too well. The rest is fuzzy rock and roll history.
But even that fact was laced with wild speculation — Midwest locals swore Stann was not just an average work-a-day spandex abuser, but a spectacularly wealthy trust-funder who adopted the bum shtick as a sort of penance for living a life of luxury.
But by the time LSD was gaining some ground in the global rock wars, with radio and video airplay, Stanley really was living the homeless lifestyle. He wore dirty clothes, he never bathed, he had lice, and during interviews, he would babble, shriek, and cower in the corner. He would wander into the crowd and blank out for minutes at a time during shows, and preferred sleeping behind venue dumpsters to napping on the tour bus.
Like, an insane seven-figure sum. For a band with a lead singer who eats garbage. But holy smokes, did these maniacs manage to squeeze out one helluva record before they imploded. For a vaguely metal band on a major label, it took a fair degree of big brass balls for LSD to open their album with a live ballad, as they do here, with Blue Velvet Moon. Over what sounds like a strumming banjo, Stan drunkenly warbles his melancholy love song before launching into a ragged, phlegmy plea: The record twists and turns into impossible shapes from there.
Jawohl Asshole is an anti-authoritarian scorcher. School is for Fools in a punk-metal riff on Twisted Sister. Telephone Call manages to be a bluesy ballad and a pounding metal jam at the same time. Farm Song is a folky acoustic campfire singalong. Dunno if it was the Guatemala City in Guatemala, or the one in his mind, but I believe him, either way. I understand that the guy smelled awful, but this is still a stunning record, man.
Your guess is as good as mine. Check the dumpster behind your local rock club. Down with the clown Louder Newsletter Sign up below to get the latest from Louder, plus exclusive special offers, direct to your inbox! No spam, we promise. You can unsubscribe at any time and we'll never share your details without your permission.
More from Classic Rock.